Authentic Knitting 9
Authentic Knitting 9″x3″ Sock Loom Knitting Board W/Dvd-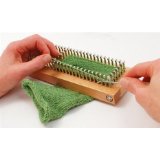 Price: $25.09
The Authentic Knitting 9"x3" Sock Loom Knitting Board W/Dvd was reviewed by thirty-three individuals who purchased the Authentic Knitting 9"x3" Sock Loom Knitting Board W/Dvd.
Visit Website

I bought this loom from amazon.com but you can get it at Joann's as well. The dvd is very helpful to someone who has not made a sock before. It works just like a knifty knitter with an e wrap cast on and the flat knit and knit and purl stitches. The dvd shows you how to measure your foot and adjust the loom to size. This DB company loom was started by 2 women, so I enjoyed supporting it. I am in the process of making my 1st sock.
I have several of the first generation sock looms and this one is great. It has grooved metal pegs, it fits nicely in your hand and is very portable. The wood is smooth and very nice, not a type of wood I have seen before.
It comes with a very quick video on how to turn the heels in short row technique and then repeat for the toe area. It should have come with directions though for the Kitchener cast off or tips on doing toe up but these actually can be found on the internet in looming groups or on Ravelry. For basic instruction and ease of use this loom is great. It is not so small(gauge) that it is difficult to knit, it actually makes nice shoe style socks with fine sock yarn. I have made a toddler pair of socks and very long wrist style gloves on it. It goes much faster on the second sock once you get the hang of it. The ribbing to a sock is slow going but once you get to the flat knit stitch area it is a breeze. These instructions for the knit stitch are also on the video and very clear.
I actually bought this loom for making the preemie hats I donate to a local hospital's NICU. Doing the hats on double pointed and circular needles was getting harder and harder on my hands, so I was looking for another way to do them. This loom is great!I use a very fine fingering-weight yarn and the E-wrap knit stitch. The hats turn out soft enough for the most delicate of baby heads, and I can make a couple of different sizes because the loom is adjustable.
So, the loom itself is nice solid wood, the pegs are sturdy metal, and the knitting tool is nicely designed, although I do wish the handle were just a bit longer and maybe a little thicker. The set does look like it will last for many years, though.
Anyway, it's great for the hats, and maybe someday I'll get around to making a pair of socks on it. 🙂
What a great loom. First off, the loom is very sturdy. The pegs are nice and have a great scoop in the front for the looming hook. The adjustable part makes it great to make different sizes of socks all on the same loom. Second, the dvd is excellent for instructions. I had to pause and redo a few times to get things to come out right but that was my fault. After a few tries I got my stitches at the tension they should be. Have to say I use e wrap as my knit stitch because it has a little more give so the stitches don't get to tight. I have used heavy weight yarn and finger weight yarn and so far all yarns have worked great. The heavy weight yarn is a bit harder to use on the small gauge. The measurements for the foot is a bit tricky. If you don't have the person right there to measure you kind of have to guess. But, after a few socks and trial and error lol you will figure out a certain amount of pegs and rows to use for a certain shoe size. The more experienced you are at loom knitting the easier this loom is going to be to use. Keep in mind even with over all experience of looms there is a learning curve with this one. Give it a bit of time to get use to the tension of the stitches and trial and error on the amount of pegs and rows you want to use. You won't be sorry if you stick with it.
I know how to knit a sock with dpn's, but I find that it hurts my wrist. So I purchased this sock loom on sale at Joann's fabrics for about $20. I've used knifty knitters looms before and I thought it would be similar. It turned out that there was a bit of a learning curve despite my previous kniting loom experience (I didn't know how to purl or flat stitch on a loom previously).I stuck with it and now I'm knitting some really lovely socks (using stretch sock yarn). I'm still having a bit of trouble with the ribbed cuff (I was knitting it too loosely before), so I'm just doing stockinette for right now (I'll hem the top of the sock when I'm done). I'll give ribbing another try after I'm done my current pair of socks. Knitting with the loom doesn't hurt my wrist either!
The best way to learn is to try until you get it right (get some scrap yarn so that you can rip it out and try again with the same yarn). #2 weight (DK weight) yarn is the best yarn for your first attempt as it will be more forgiving than sock weight yarn. If you absolutely must use sock yarn the first time, get the stretch sock yarn since it will be easier to knit without getting so tight on the pegs that you can't knit them. (If you have trouble with tight stitches, look up "U" stitch on youtube.)
Also the first couple of inches of knitting will look a bit strange; it will start to look like knitting when it gets a bit longer and isn't stretched out as much.
I purchased this loom with the intention of making socks (duh!). The wood and metal pegs are very high quality and I think it will outlast my desire to make socks. The DVD is nice but it somewhat lacking…I started knowing nothing and the DVD doesn't help all that much. I'd recommend finding a primer or some such (or lots of reading up online) in addition to the provided directions if you are a complete beginner.
A couple tips:
1) Do everything LOOSE. No matter how tightly it looks like she is doing things in the video, if your loops are even remotely tight, things get tough to impossible pretty quick. Keep it loose and you won't have as many problems.
2) Sizing is a bit sketchy. I'd set it a little smaller than what you actually measure. That could just be because I was doing my loops loose and the yarn I used could play a part.
3) Watch out for splitting yarn…if you don't catch it, it makes doing the next loop on that peg a nightmare.