Lacis Yarn Ball Winder MO17
Lacis Yarn Ball Winder MO17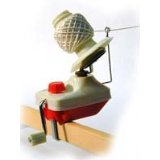 Price: $29.39
In depth reviews are given by individuals who purchased the Lacis Yarn Ball Winder MO17.
Visit Website

I have been using the Lacis ball winder for about a year and have to say that it one of the most justified purchases I've made.
When I purchased the winder, I was somewhat concerned with the negative reviews, however I'm fortunate to have two local yarn shops (LYS) very close by, so I knew that they were simply designed and simple to use. I figured that if I couldn't get it to work, someone at the LYS would assist.
Naturally, I was anxious to wind everything in sight, as soon as it arrived. Much to my surprise, it wasn't working the way I expected. Assembly is minimum, so when the yarn kept getting caught under the gear and just not winding correctly, I thought that there was something "wrong" with my winder.
I'd read, re-read the directions, but it took some playing around and sheer luck to figure out what I was doing wrong. The guide rod, which the manual instructs you to pull out, actually has to be pulled hard and must snap into place in the center of the base. Otherwise, arm falls, doesn't guide properly and makes a mess of your yarn.
Once I solved the problem, I had no more problems.
Although the reviews are not glowing and the Royal winder seems to be a favorite, let me just point out that the winder, unlike your choice in yarn or knitting, or crochet needles, are basically the same.
I definitely recommend it to anyone, especially at the current discounted price of $23…it's money well spent!
 Recently, I bought my first yarn ball winder and I love the concept. I should have gotten one years ago. This particular brand (Lacis), however, has some design flaws. Like, the yarn tends to get tangled up in the exposed gears. Good News! There is a way to modify it. For those who have the Lacis brand yarn ball winder, here is a solution: Take a flexible piece of plastic, such as a lid from a 32 oz. yogurt container or one a little larger. Cut a circle out of the center allowing the lid to fit snugly on the bottom of the "spindle". (There is still room to be able to secure the spindle to the base). This remedy not only helps prevent yarn tangle in the gears, but allows you to make a larger ball, say form a 5 oz. skein. It is also important to keep the yarn taut while winding to avoid making a loose yarn ball. Now I want to turn all my skeins into a yarn ball. :o)
This does exactly what it is supposed to do. I can't imagine having to wind yarn by hand, this makes that task easy. The instructions could be more helpful. I was having problems with the metal yarn guide flopping around which would cause the yarn to wrap around the gears but after checking other reviews I discovered that you have to pull the guide until it pops into the proper position (this info should have been in the directions). This completely solved my problem. I also took another reviewer's suggestion and made a wider base for the spindle out of a yogurt lid so that I can wind bigger cakes.
I am writing this review because the winder deserves it. I just purchased a large winder but not because this one doesnt work well, its just to small for my needs now.
My little winder, this one here, is 8 years old now. It was the first winder I even bought. I used it weekly all those years as I am a spinner. It still works as good today as it did the first day I bought it. Its a jewel of a winder even if it is small. I may have replaced her with a big one now, but I am keeping her handy for small jobs as she is a good running little winder. She is quiet, smooth, and trouble free.
This winder is a 5 star winner!!!
I love this yarn ball winder. I received it from the shipper in a week. I took it home and was able to wind a ton of yarn in a short amount of time. I should have ordered one of the a long time ago. This is one of the best purchases I have made for yarn supplies. If you are an avid crocheter or knitter and have ever rolled your yarn the old fashioned way you will want to invest the money in one of these yarn ball winders. The only suggestion I can make to the manufactures is to maybe add another part to the bottom of the spindle. I took the suggestion from another person who also ordered the winder and took a 32 oz plastic lid from an empty yogurt container and cut a hole in it to fit around the spindle. It works great and keeps the yarn from getting tangled in the gears. It also lets me make bigger yarn balls. I just love the way the yarn balls are flat on the bottom and top so they stack easily in the preferred container to keep my yarn safe. VERY SATISFIED with the product and the seller. Thanks.
Forty of fifty-six purchasers of the Lacis Yarn Ball Winder MO17 rated this device to be 5 star.